Landon Meyer's tips for SDRs: How to stand out on LinkedIn and more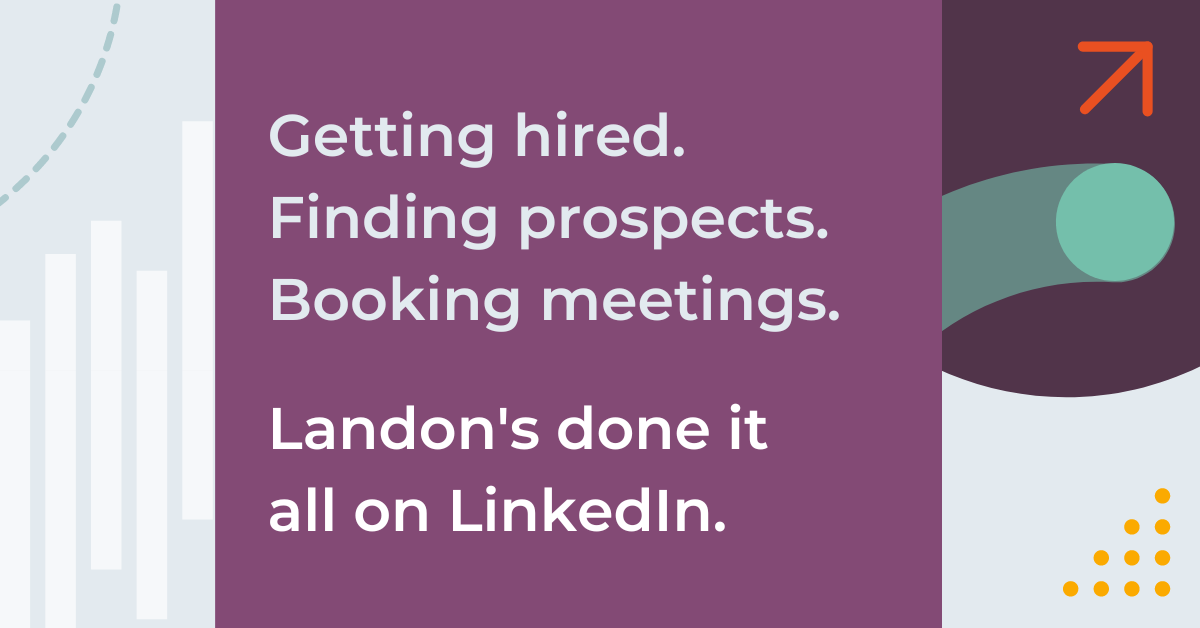 What you see here is the true story of how LinkedIn helped Falkon hire our founding SDR team members.
If you notice us talking more about social selling, this is the reason. We're believers in the idea that LinkedIn can drive much more than conversation. People are making change happen on LinkedIn.
Falkon exists to help go-to-market teams win more, and not only through our platform. Some improvement is possible only through learning from people who excel at the thing you want to do.
Landon, our SDR Team Lead, is one of those people for SDRs, both in learning the role and in how to use LinkedIn authentically.
Here's what happened when he started posting on LinkedIn daily:
30 days in, he was hired as founding AE at a SaaS startup
45 days in, he built a council of folks who keep him honest and accountable
60 days in, he appeared on a

John Barrows webinar

with sales rockstars
90 days in, he had appeared on three podcasts
100 days in, he launched a course on social selling that made $18,000 in 20 days
103 days in, he reached 10,000 followers
We've gathered his top advice for SDRs—from his LinkedIn, of course!
On how to use LinkedIn
Tell your story, not your company's
Focusing on yourself may seem counterintuitive if you want to use LinkedIn to build pipeline.
Here's why it works: People are more likely to reach out to you if they feel like they know you. Storytelling sparks emotion.
And if you're the one reaching out, eventually, you'll start to run across people who know you from your content. What a great warmup!
Once you connect with a prospect on LinkedIn, wait at least two weeks before sending them anything. This time gives them the chance to build trust in you.
Share one vulnerable post per week
Share something you wouldn't normally tell a stranger. Look at the folks that viewed your profile after that post, or engaged with it. Connect with potential buyers from that group.
Don't pitch to them. Ever.
Share about your product's value prop and they'll come inbound organically when the time is right.
Remember you always have something to say
If you want to use LinkedIn to grow yourself and your career, don't tell yourself you have nothing to say. People have 6,000 thoughts per day.
If you feel like you don't have an idea, it's not that you have nothing on your mind, it's that you're stuck in a mindset that worries what your audience wants to hear or what people will think.
Truth is, your audience doesn't know what they want until you give it to them.
So put yourself out there with original content about your own experiences, and you'll build an audience.
Let go of your ego
Posting on LinkedIn is building in public and that can be scary.
But if you don't start sharing, you'll never get good at sharing. And even once you get good, you'll want to check in on whether you're proud of your content.
Once you let your ego go, it's easy to post and accept feedback. Landon recently had a Head of Growth at a Cloud 100 company comment that they didn't like his most recent LinkedIn post because it felt like a pitch. Getting that feedback made him realize he was frazzled by entering a new space and wasn't communicating like himself.
And he only had that realization because he put himself out there!
Just post
Once you get going, LinkedIn analytics will stick in your head. Do I get more views in the morning? Do people like quizzes? Put that aside. There are no rules.
Post what you want, when you want.
While engagement metrics are helpful, improving them shouldn't be your goal. 100,000 views or 200 views, Landon's goal for every post is to make a new connection.
What's your goal? If you choose one that's authentic to you, the numbers will follow.
Download a PDF of these tips >
On succeeding as an SDR
Don't go after the title
Prior to joining Falkon, Landon was Head of Sales Dev in another B2B role. He took that role thinking he'd feel fulfilled, but soon realized he was still an SDR, just with a different title.
Now, he took a step back to SDR Team Lead. He knows he'll ultimately make more money later if he hones his skills and experience so that his next role can be Sales Manager, and then Head of Sales Dev, not only in title, but in function.
Those opportunities will come up and he won't have a skill gap.
Ask yourself this one question
Do you feel like you're annoying your prospects?
Landon starts his SDR coaching sessions with this question because he sees it as key to being successful as an SDR.
If you say yes, you need to work on believing you're helping people solve problems. Otherwise, you'll always operate from a place of fear.
Instead, lead with curiosity so you can figure out the exact problem your product or service will deliver as a game changer for the person you're talking to.
Use customer reviews to build your sequences
Is your product on G2? Even if it's not, chances are you have access to customer testimonials and reviews.
Those are literally your buyer persona telling you what problem your product solves for them.
Find the patterns and use them!
Try this activity mix
Landon reverse engineered what it took him as an SDR to book 20 meetings per month: 20 relevant emails, 80 calls, 20 LinkedIn touches.
That's what he recommends keeping in mind every day. If you stick to a plan, you'll see success. The numbers for your world may be a little different – start by looking at what it's taken over the past quarter to book meetings.
If you book 3 meetings before noon, take the rest of the day off
Not all leaders will agree with this opinion, but Landon is a player-coach who remembers how difficult the SDR job is. It's a long game.

So when you're killing it, reward yourself.
Bonus tip
This one combines LinkedIn and booking meetings!
Ghostwrite for your C-suite
If you're working on being like Landon, you're learning a lot about LinkedIn. So, if you're behind on meetings booked, try ghostwriting a message for your C-suite to send out to their connections in your ideal customer profile on LinkedIn.
Keep it short and sweet, and offer it up without being asked.
They may not be willing to share, but if they are … what a win for you!
Connect with Landon and his team
Love these tips? Follow Landon. He's also Co-Founder of B2B sales pro community The Prospecting Club.
Luka Kim and Tyler Washington are his mentees who also work at Falkon.
Falkon posts regularly, too!