FALKON FOR EXPANSION & RETENTION
Every renewal and expansion should get a "Hell yes!" from customers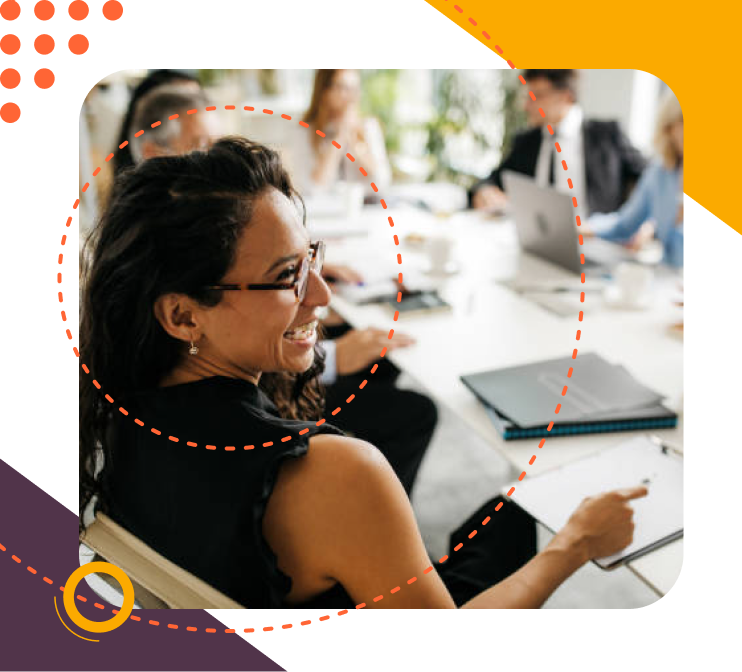 Expanding & Retaining with Falkon
Proactive
Get ahead of renewal risks by proactively alerting account management of the earliest sign of poor customer health. Identify expansion opportunities early so you can turn product growth into revenue before a competitor sweeps in.
Informed
Arm your account managers with the most relevant insights about how their accounts are using the product, what value they are getting, and please don't ask them to piece it all together by looking at dashboards.
Personalized
With automated personalized outreach, you can offer white glove service to all customers, not just the top tier. After all, every customer matters.
How Falkon helps you win customers. For life.
Real forecasting for expansion and churn.
Current forecasting for expansion and renewal is simply broken because it doesn't leverage product and support data. With Falkon, predict expansion and renewal revenue with unprecedented accuracy and long before any revenue risks.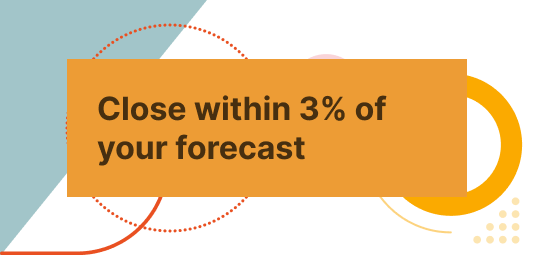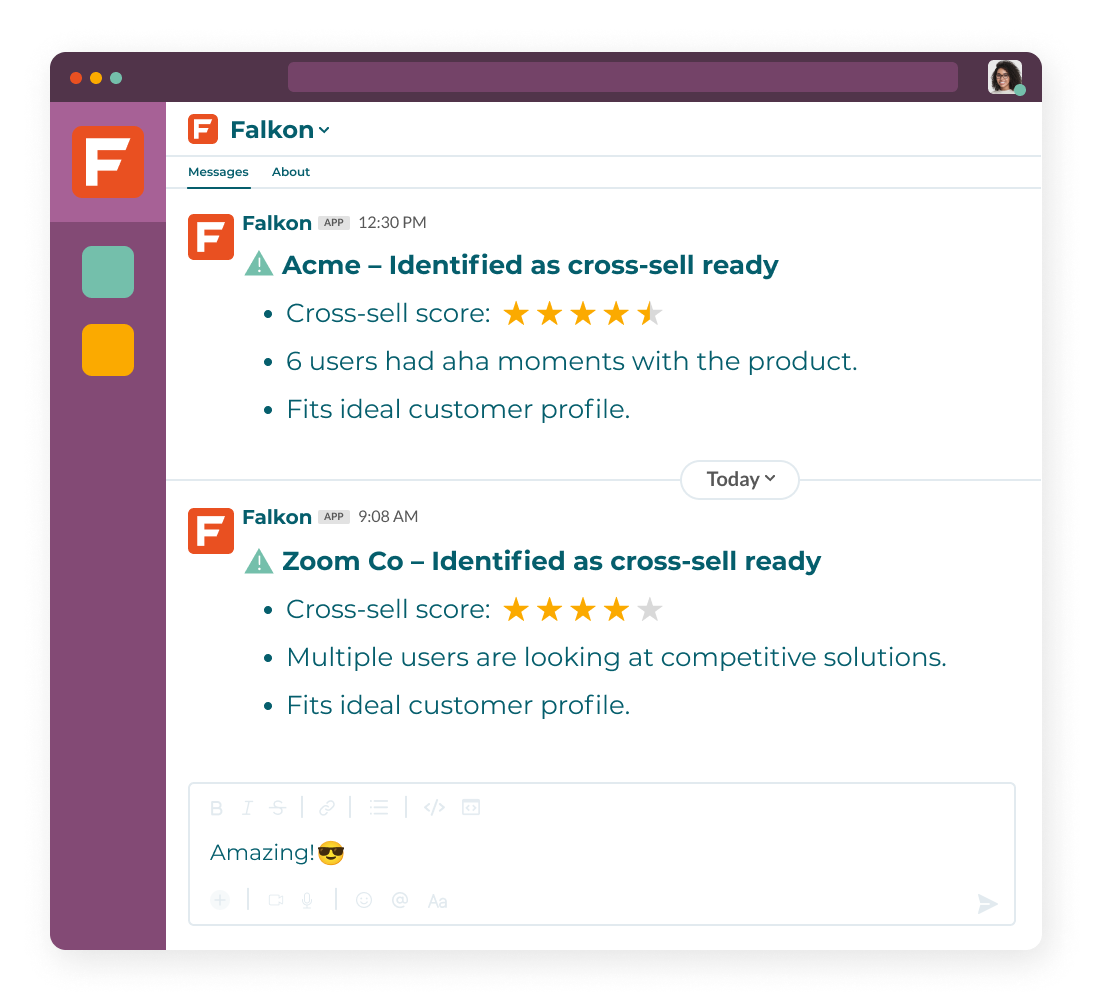 Find hidden expansion revenue.
Combining product usage signals with intent data and engagement with sales and marketing, Falkon proactively finds expansion opportunities. With this, your account managers can focus on the most important accounts and the most important contacts within them.
Neutralize revenue threats before it's too late.
Have you been surprised by losing a customer because the team didn't notice declining usage in time? With Falkon, every account is automatically monitored and the earliest signal of declining usage is detected and surfaced to your team so you can build a plan and execute it long before the renewal date.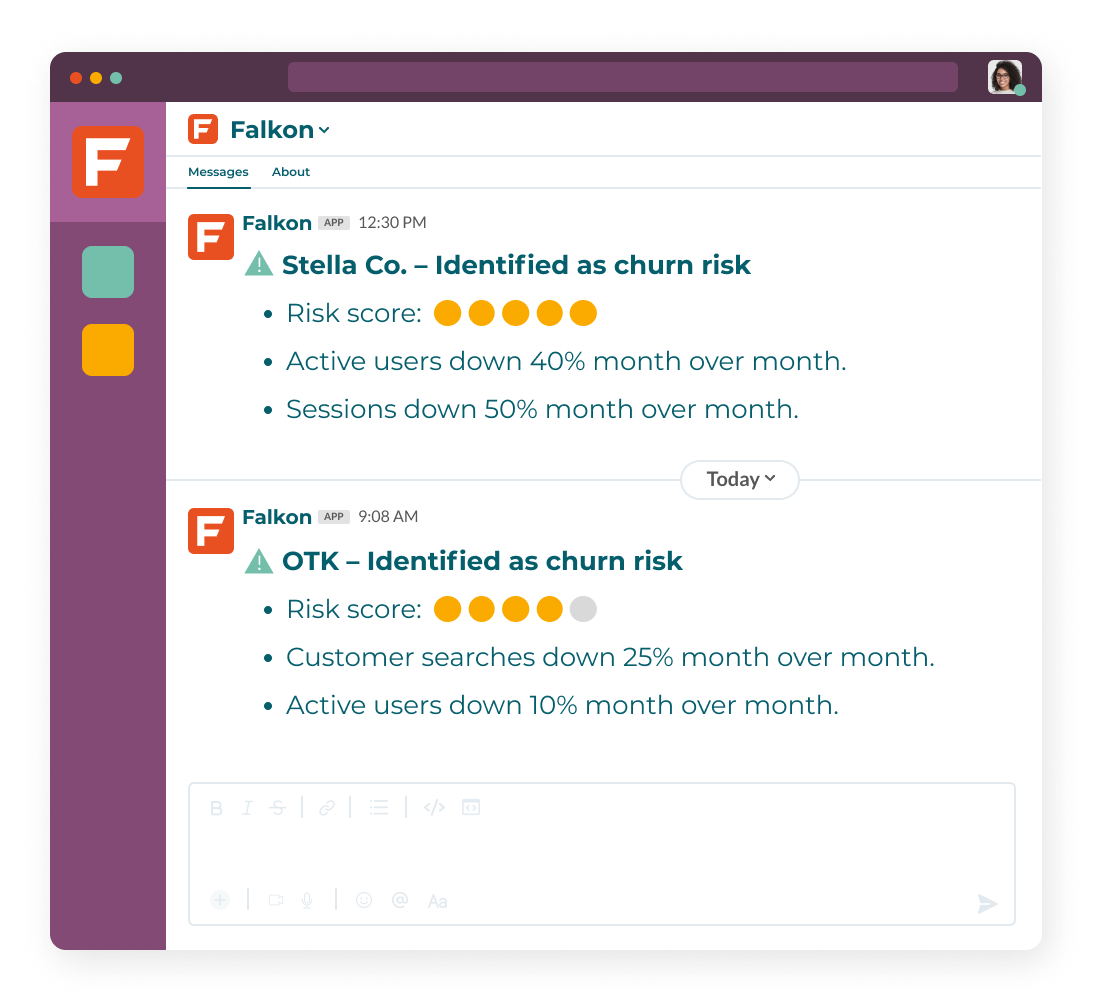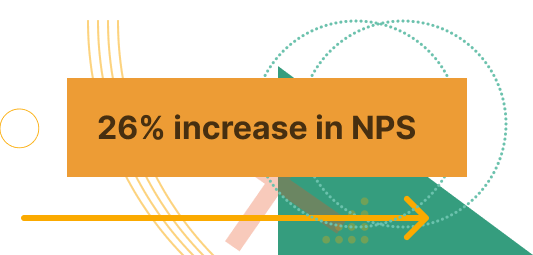 Communicate Value. Retain Customers.
In today's climate, delivering value isn't enough. You need to communicate it to all stakeholders within an account. With Falkon, you can automate Monthly Business Reviews for customers, and highly personalized outreach when they have aha moments with your product. Every customer feels like a million bucks with such white glove service. And your team didn't have to lift a finger!
Know their business without being an analyst.
With Falkon's Slack Dossier, every customer facing team member has the most relevant insights about customers and end users on their fingertips. Simply ask (in English) and you get the most important facts about your customer. Always show up prepared for customer meetings, and delight them with how much you know. The best part - you don't need to be an analyst and pour over dashboards and reports to figure it out.