When SDR leaders say goodbye to old-school spray-and-pray methods and level up to share actionable insights with their teams, something magical happens: the teams do better, and the SDRs are motivated to keep winning.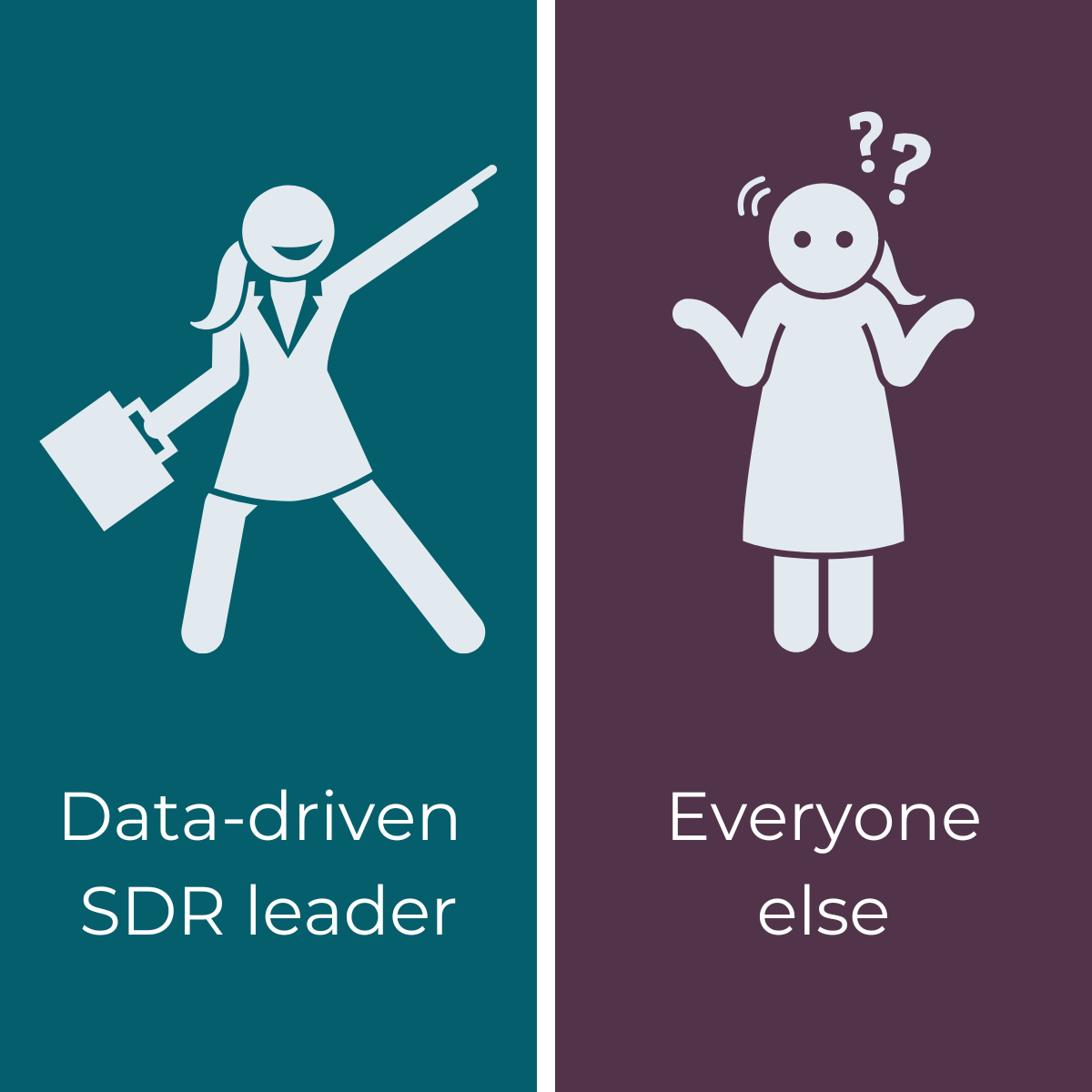 Where do they get actionable insights? Data!
SDR productivity is directly tied to revenue development, yet SDR leaders have often struggled to get the resources to gather, clean, and operationalize the processes to get insights from data.
It's past time for SDR leaders to be powered with the digestible data they need to point their teams in the right direction, especially now as the economy has executive teams and boards pressing to do more with less.
These five tactics make data-driven SDR leaders successful vs everyone else.
Track to forecast and adjust in real time
Set smart activity goals
Share the elements of success
Do data-driven coaching every week
Enable cross-team collaboration
Track to forecast and adjust in real time
With the amount of activity generated by an SDR team on a daily basis, manual updates in spreadsheets are simply not an effective way to forecast.
Data-driven leaders automate forecasting so they have a consistent, accurate view at their fingertips. It's the only way to know exactly how the team is tracking toward shared and individual goals, which enables predictability about end-of-the-month status and powers real-time course correction.
How this motivates the team:
Goals are consistently met as the team adjusts ahead of misses
SDRs see compensation improve as performance improves
Sales and marketing teams appreciate the team's clear impact
The risk without it:
The team is unable to course correct and ends up surprised at the end of the month
Goal misses and near-misses mean SDRs are demotivated and stressed by the need to perform heroics at the end of the month
Sales and marketing teams are suspicious of the team's impact
Set smart activity goals
How many emails should it take to book a meeting? How many phone calls?
The answer should be based on observation of what works most often for a particular business at a particular time, considering the reality of how a specific team is actually booking meetings in a specific industry, facing a specific market.
Data-driven SDR leaders work back from their team's meetings-booked goal, using (recent) historical data. They look at the types of activity, number of those activities, and cadence to understand the ideal mix. Then they set goals at a granular level for different account types, contact types, and so on.
How this motivates the team:
Meetings goal is met (or exceeded) with high predictability
SDRs are less stressed because they have a playbook that works
It's easy to see where improvement is necessary and where overwork is happening
The risk without it:
Meetings goal is missed or barely met, often with last-minute heroics
SDRs are demotivated by ambiguous goals and lack of direction on what to do to generate results
SDRs are frustrated because they hit their activity goals, but still don't book enough meetings
Share the elements of success
SDR leaders who motivate through weekly leaderboards without data about how the leader won are missing a huge opportunity to show their team how to win more.
Data-driven leaders review the activities of the best-performing SDR with the entire team every week. This review includes the smart activity goals and goes further with a look at harder-to-codify elements, like the actual emails the SDR used.
They turn a breakdown of success into guidance for the team, explaining exactly what worked for the top team member. Sharing the precise details about what's working sets up the entire team to improve their productivity.
How this motivates the team:
SDRs build intuition about what tactics work and learn to course correct on their own
The winning SDR feels highly celebrated as the gold standard of awesomeness
Competition feels positive and fuels results
The risk without it:
Best practices fail to improve the team's performance because they're too high level
SDRs that aren't winning feel stuck because they don't know how to improve
Competition feels negative because there's no learning attached
Do data-driven coaching every week
Data-driven SDR leaders hold regular 1:1 coaching sessions, and rarely cancel or move them. During the meeting, they pull up metrics around results, efficiency, and activities to assess where the SDR needs the most help. This ritual normalizes the idea that learning from looking back fuels future success.
Together with smart goals and sharing weekly success, having devoted time with each individual allows them to coach to results versus activities. Given that the entire team is working with data-backed context, it's straightforward to see what's possible and where an individual can improve.
How this motivates the team:
SDRs know their manager is invested in them
SDR productivity improves based on actionable, bite-sized feedback
Call and email response rates improve
The risk without it:
Leaders manage to activities rather than results
SDRs fail to ramp up or improve, and their career arcs may suffer
A typical SDR needs to complete more activities with more effort to book a meeting
Enable cross-team collaboration
Acquiring customers is the business of both sales and marketing teams. Yet, even within sales teams, different functions rarely share visibility into how each one is touching accounts in the pipeline.
In the current best case scenario, SDRs and AEs have strong enough relationships to keep each other aware of insights, leaving success up to the personalities involved.
Silos need to be broken in a way that doesn't rely on relationships, and data-driven SDR leaders know how. They use tools that give AEs and marketing teams an easy way to see which accounts SDRs are working, and how they're being worked. They also use tools that automatically alert SDRs when a contact engages with their AE or with a marketing touchpoint (website visit, event registration, ad click) so the SDR can follow up.
How this motivates the team:
SDRs prioritize contacts and accounts based on cross-team engagement
SDRs avoid duplicating efforts and overworking accounts
SDRs leverage the marketing content that drives engagement
Marketing teams and AEs love their SDR team and appreciate their impact
The risk without it:
Wasted effort when SDRs and AEs pursue the same accounts and contacts
Overwhelmed prospects who are being bombarded
SDRs don't know which marketing content is most likely to engage
Marketing team feels like SDRs aren't following up with their leads
AEs feel like SDRs are stomping on their deals, or ignoring the deals they want worked
Discussions about additional SDR headcount are high-conflict because the value of the SDR team isn't clear across the organization
Summing it up
Being data driven motivates SDR teams by giving them reasons to believe in their goals and reliable information about how to meet them. Moving forward based on what has worked in the past sets a new bar for success and keeps the team motivated as they see their work pay off. Understanding exactly what is working and how the individual stacks up means that each rep is set up to constantly improve.
For leaders, data-driven tracking avoids surprises, which helps keep morale high by avoiding end-of-period rushes to meet goals. Using data to alert about important moments across teams makes the entire go-to-market team more supportive and efficient.