Marketing teams fly blind when it comes to product usage and sales activity, yet these signals are essential to hit pipeline and revenue goals. And even when goals are met, credit due to the marketing team doesn't always land.
Lack of visibility
Marketing generates leads, but what happens to them after that? Do SDRs and AEs follow up appropriately every time?
Lack of product signal
Marketing teams struggle to see product usage, which blocks conversion and expansion in a product led world.
Lack of credit
Marketing efforts have major influence on revenue generation, but proof is elusive, impacting budget allocation.
Falkon was built to make the pain go away

How to drive more revenue with Falkon
Falkon works in four layers: unification, analysis, insights, and action. Unification demolishes silos. Analysis answers questions in seconds. Insights uncover nuances. And it all leads to action. Here are the top actions for Falkon marketers.
Automate PLG outreach
Falkon AI finds accounts ready to activate, convert, and expand, plus churn risks. The system pushes them to your MAP, and you send the right campaign to the right user at the right time.
Speed up your funnel
Identify slowdowns and leaks with cohorted funnels. Actionable insights at every stage make it easier to find issues, dial up velocity, and ultimately increase conversion.
Build better playbooks
Success-based Markov attribution assigns credit to the touchpoints that actually work. Find your best tactics per segment and map ideal customer journeys. Update monthly.
Monitor the pipeline
See exactly what's happening across marketing and sales with automated monitoring of every lead, opportunity, and account. Get alerts when activity falls out of baseline.
Grow faster with features that sharpen your vision
Product usage signals for fast action
Lookalike modeling




Identify new leads in product users who behave similarly to ready accounts
Prioritize accounts
Get a list of accounts that show early signal on readiness to activate, convert, and expand

One-click workflows
Send your lists directly to your MAP, ready to enroll in campaigns immediately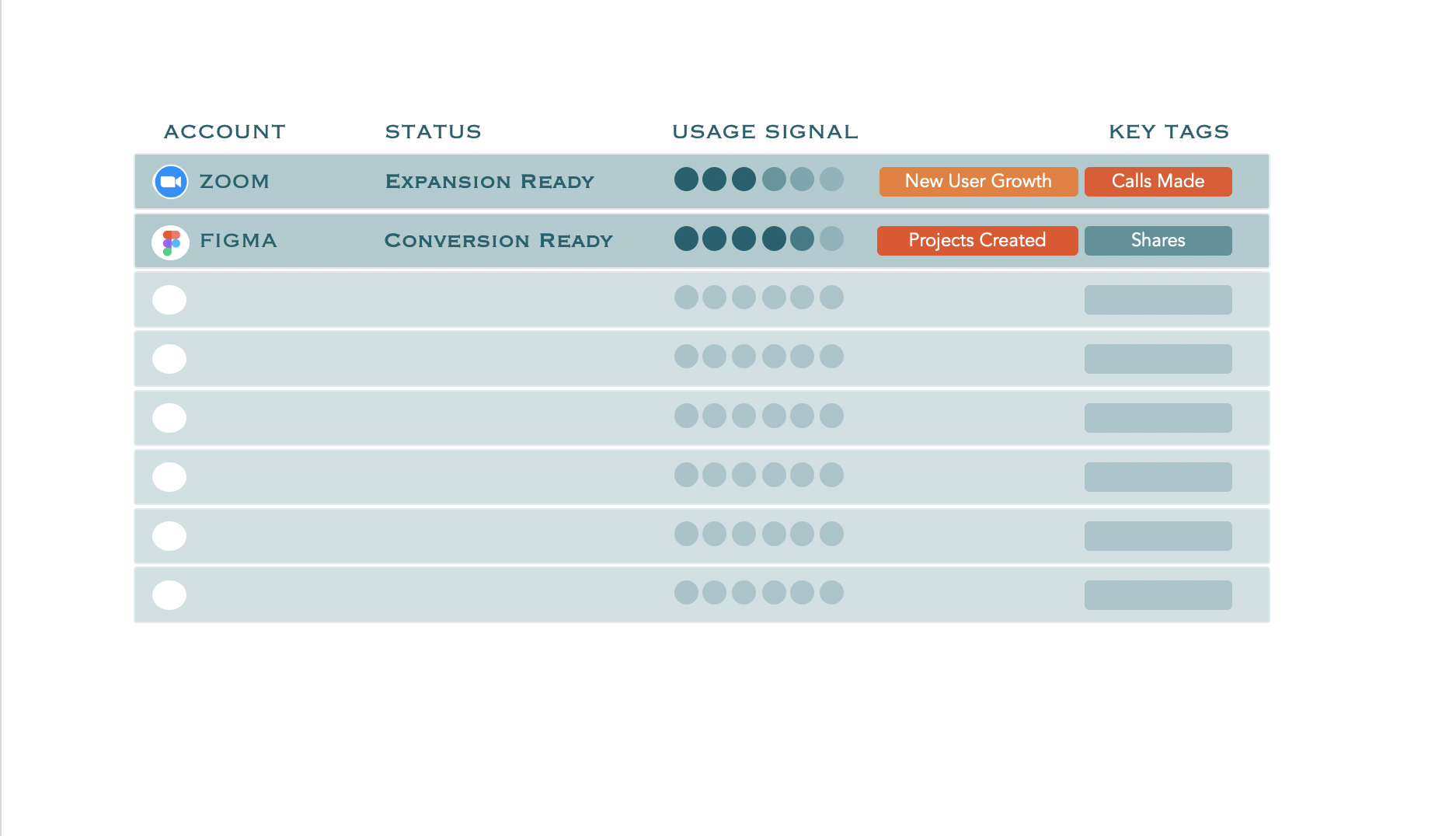 Account-level product usage data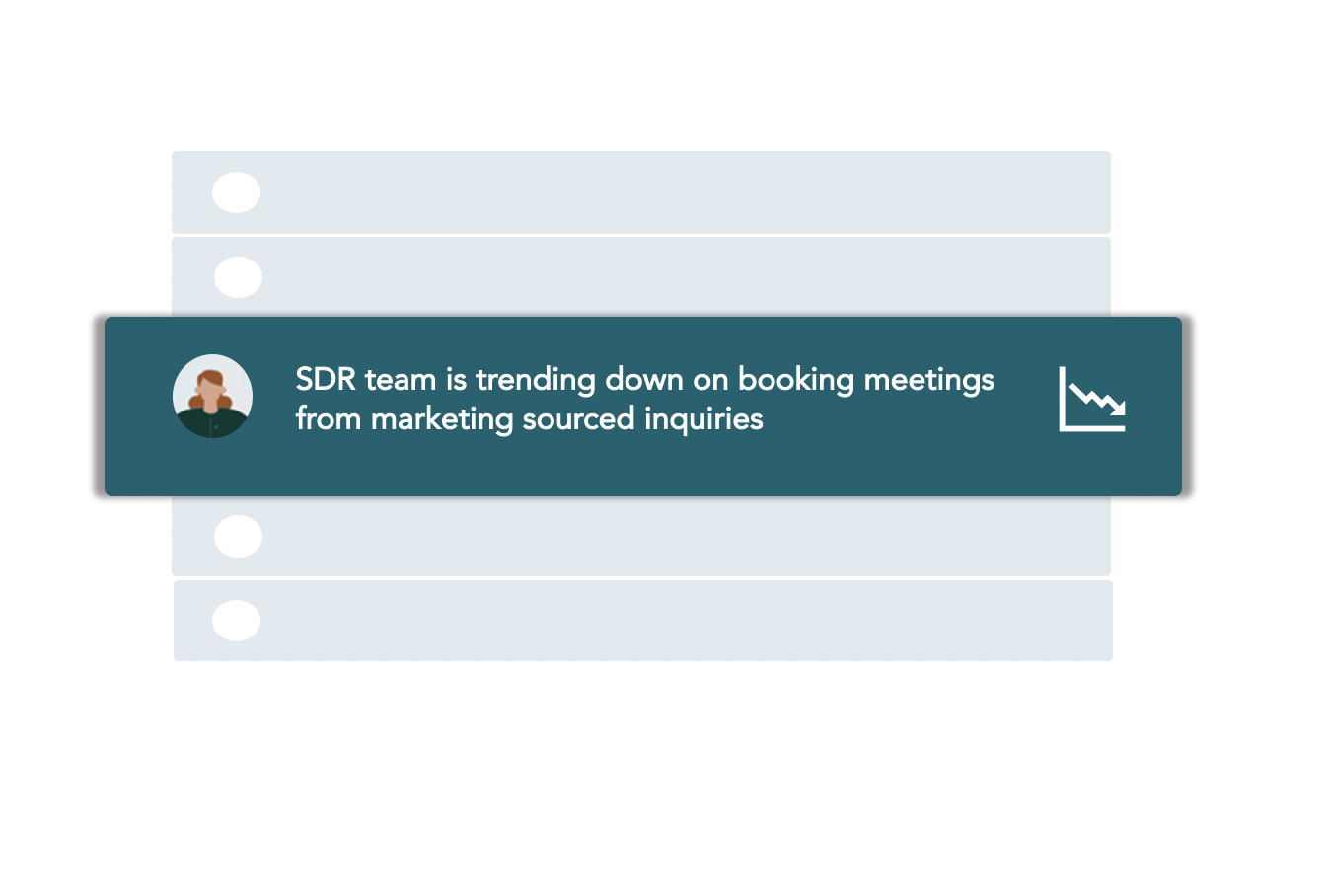 Sales and marketing visibility
SDR goal tracking and reporting
Get an automated report highlighting SDR victories and challenges based on business-specific benchmarks

Shared account timelines
Review marketing and sales activities next to each other on a shared timeline built with data from your CRM and MAP
Account activity alerts
Know right away when target accounts need attention as indicated by a decrease in outbound or inbound activity
Game changing Markov attribution
Proving your team's value should never be a challenge, but rule-based attribution models don't tell the real story.
Falkon created success-based attribution built on a modified Markov attribution model. It looks at the prevalence and importance of every marketing and sales touchpoint in your customer journeys, giving highest weight to the touchpoints that are most influential in successful journeys.
The model updates monthly so there's never any question about what prospects are responding to.
Success-based attribution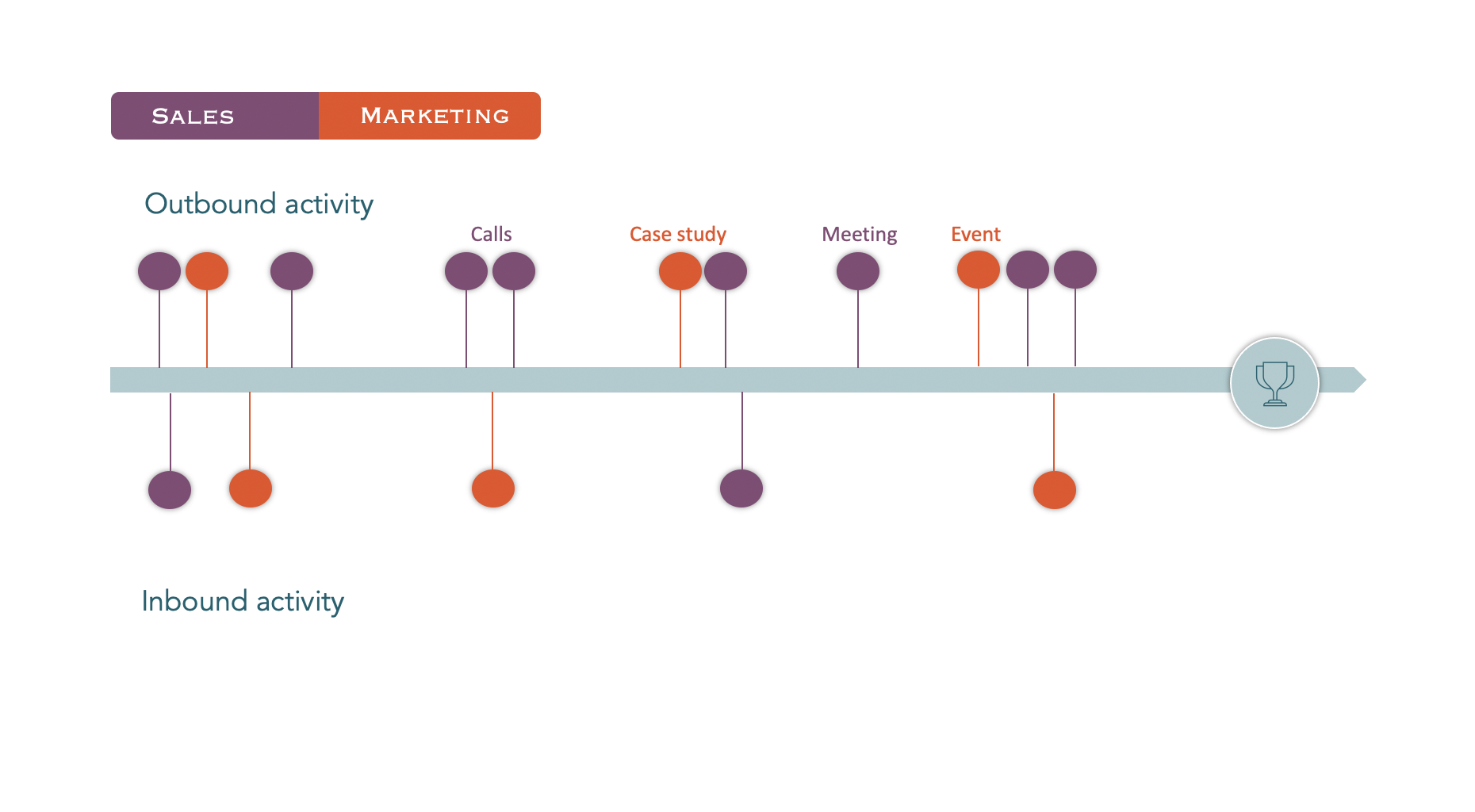 Stitched customer journey
Customer journeys and playbooks
Journey 360
See end-to-end account-level journeys using data combined from marketing and sales sources, inclusive of online and offline activities. Falkon surfaces as many as 30% more touchpoints than current systems.

Smart Stitch
Find disparate contacts and leads, and match them to the right accounts to enable Account Based Marketing

Playbooks
Understand the precise mix, order, and number of activities involved in taking key accounts from lead to closed won, making it simple to replicate success
Actionable funnels with velocity insights

Unified marketing and sales funnels
Explore business health at every stage from inquiry through closed won in one data set

Cohorted funnels to assess health over time
Falkon funnels represent groups of customers that first engaged with your product at the same time for apples-to-apples conversion data
Learn why cohorts matter >

Fallout and sticking points
Diagnose velocity issues with a visual representation of funnel fallout and sticking points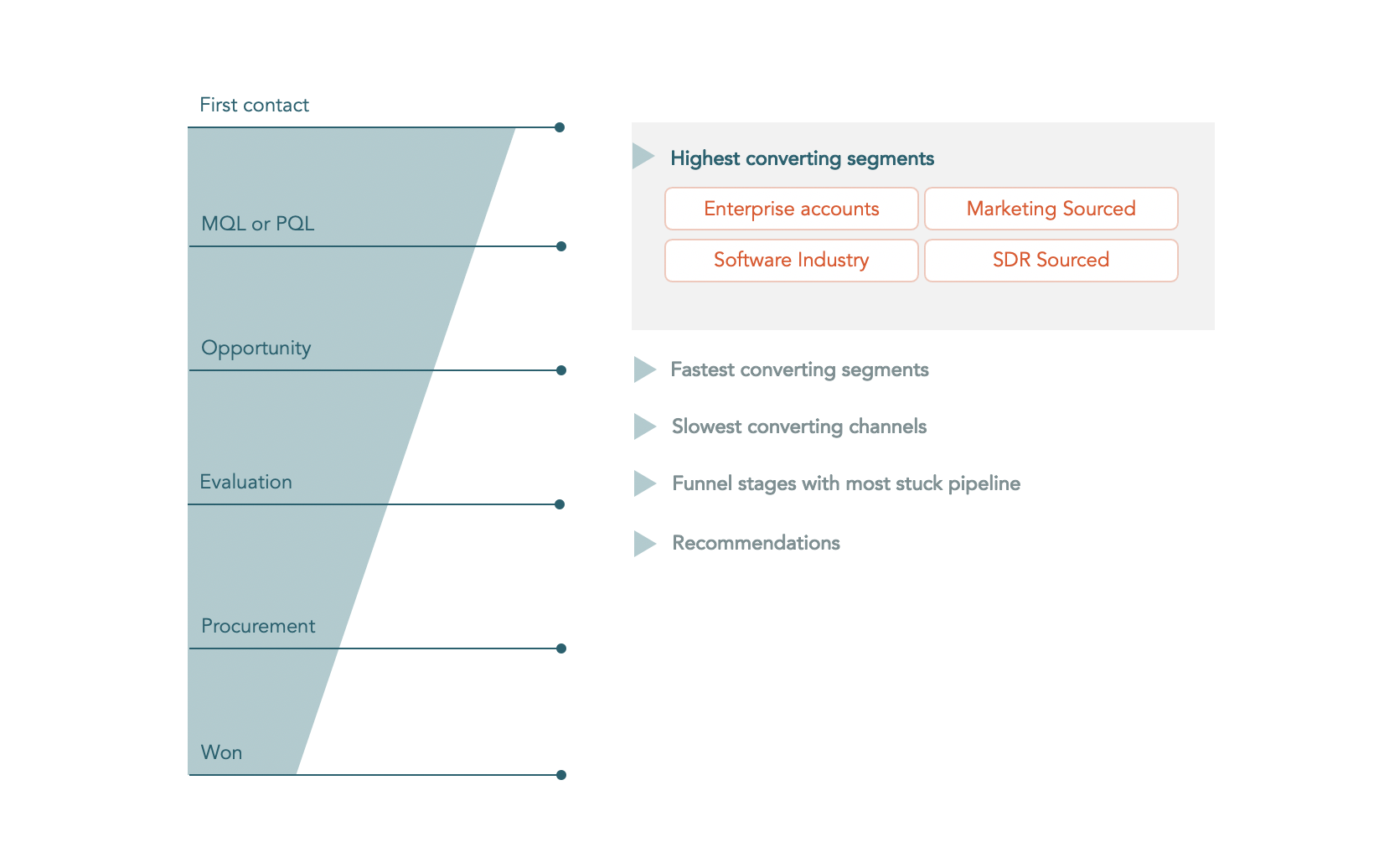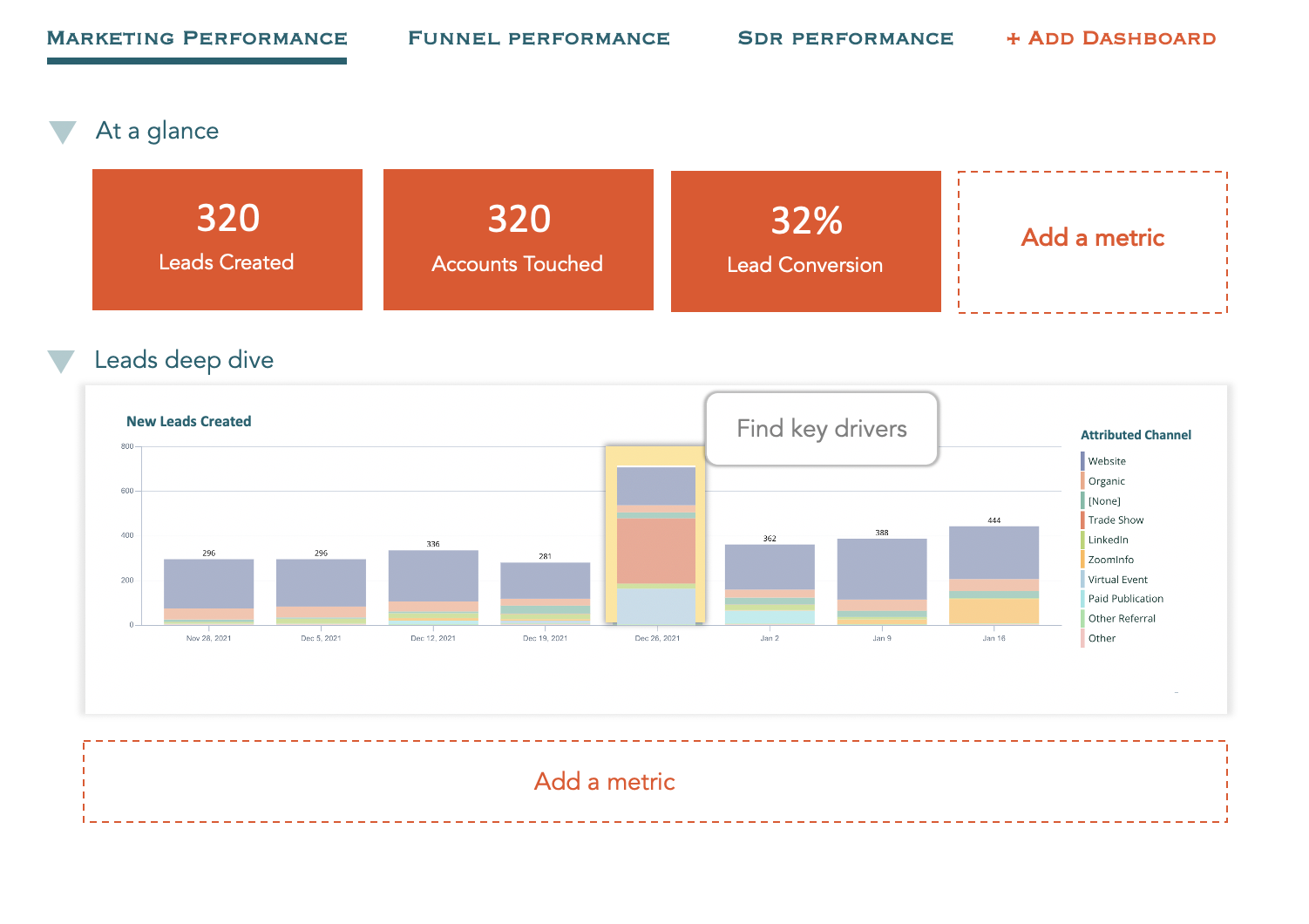 Dynamic reporting to answer any question
Easiest metric analysis ever
Deep dive all of your performance data in one place, using simple filters instead of days of analyst time. Find root causes and key drivers with a click.

Automated reports
Set up the reports you repeat, like WBR, to be created for you on the cadence you choose

Trend and anomaly alerts
Find out immediately when your data shows a slow trend or a sudden anomaly, even when it's happening three layers under the metrics you regularly review
Marketing and sales teams love Falkon
Accurate attribution isn't a mystery. It's math.